To celebrate our appreciation for everything teachers do, and to help teachers get ready for the new school year, we are having a First Annual Back to School Teacher Appreciation Day! We know that many teachers pay for classroom supplies out of their own pockets, so we want to help make books for the classroom affordable.
On August 26th, show your school ID for 15% off your entire in-stock purchase! Need certain new books for the classroom? Call, e-mail, or message the store by August 19th and place a pre-order for 30% off!!
Every teacher that shows their school ID on August 26th can enter to win our raffle for a $20 gift certificate to the store!
---
Fall into Books – A Bookshop Tour!
We are celebrating the diversity of independent bookshops throughout Upstate NY with a First Annual Bookshop Tour! Throughout the month of October, tour 14 independent bookshops located within 1&1/2 hours of Rochester, NY.
Start anywhere, end anywhere! Pick up a passport at your first store or print one off our website so you can collect stamps from each store you visit. Each stamp will earn you 1 entry into our raffle for 1 of 2 gift baskets filled with great bookish goodies! The more stores you visit, the more entries you earn!
ALSO, everyone participating in the bookstore tour will receive 10% off their entire purchase at all participating bookstores!!
Participating Stores:
Please see our website www.fallintobookstour.com for complete details about participating stores including store hours.
Books, Ect – Macedon
Explore! The Bookstore – Clifton Springs
Greenwood Books – Rochester
Lift Bridge Book Shop – Brockport
Mood Makers – Rochester
Old Church Mall Rare & Collectible Books – Webster
Paperback Place – Canandaigua
Small World Books – Rochester
Stomping Grounds – Geneva
The Book Centre – Spencerport
The Books Landing – Penn Yan
The Dog Eared Book – Palmyra
Village Bookmarket – Palmyra
Yesterday's Muse – Webster
---
Are you a member of our loyalty  program? It's really easy! Grab a free loyalty card next time you are in!
Collect 9 stickers and get 1 free $4.95 book, 2 free $1.95 books, OR $5.00 off any new book/rare book with a purchase price of $5.00 and up!!
How to collect the stickers:
Purchase 1 book $4.95 & up = 1 sticker
Purchase 2 books at $1.95    = 1 sticker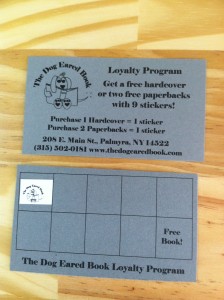 ---
Sorry, there are no coupons available at this time – but be sure to check back!
Save
Save
Save
Save
Save
Save
Save
Save
Save
Save
Save
Save
Save
Save
Save
Save
Save
Save
Save
Save
Save
Save
Save