About me!
This is me, Carrie, and my husband, Nick, from our first ever interview about the store!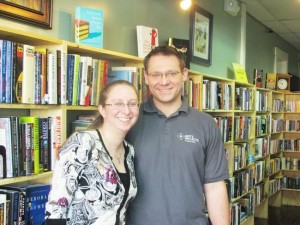 I have a life-long passion for books and reading. My involvement in the book industry started when I was still in high school and I began working for the Macedon Public Library. My husband, Nick, owns his own business, Nick's Projects, which had grown to the point that he required a location for his customers to be able drop off/pick up equipment. Naturally, I thought that location would be a prime space for a book store as well! We are so excited to be a part of Palmyra's vibrant downtown and can't wait to take part in all of the great festivals and activities that take place in Palmyra each year!
Are you looking for a book recommendation? Just ask!! I love to talk about books and I would be more than happy to help you pick out your next favorite book!
Have you met Riley? He is our store mascot and he loves to make new friends! Be sure to say Hi to him whenever you are next in the store!