February 4th at 7pm
Local Author Book Talk & Signing!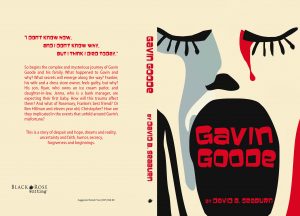 Join us in welcoming local author David Seaburn for a discussion and signing of his latest book, Gavin Goode!
David Seaburn is a retired therapist, psychologist, and minister who now teaches writing at
Writers & Books
.
Want to know more about the book: "I don't know how, and I don't know why, but I think I died today."So begins the complex and mysterious journey of Gavin Goode and his family. What happened to Gavin and why? What secrets will emerge along the way? Frankie, his wife and a dress store owner, feels guilty, but why? His son, Ryan, who owns an ice cream parlor, and daughter-in-law, Jenna, who is a bank manager, are expecting their first baby. How will this trauma affect them? And what of Rosemary, Frankie's best friend? Or Ben Hillman and eleven year old, Christopher? How are they implicated in the events that unfold around Gavin's misfortune?This is a story of despair and hope, dreams and reality, uncertainty and faith, humor, secrecy, forgiveness and beginnings.
This event is free and open to the public! Books will be available to purchase.
---
Monthly Book Club
Next Meeting: January 21st  at 7 pm
We will be reading Just Mercy by Bryan Stevenson for our next meeting.
Please contact us if you plan on attending or if you need a copy of the book. Thanks!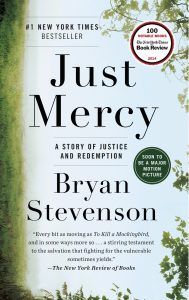 ---
Murder Club
We hold bi-monthly murder nights to solve grisly crimes.  Each murder is different and involves puzzle solving and great team work to figure out who-done-it!  
Murder Club seats are extremely limited and currently are booked.  If you would like to go on the waiting list for openings, please contact us.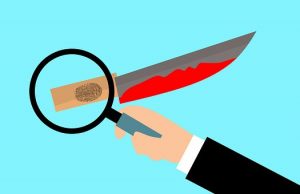 ---
Are you a member of our loyalty  program? It's really easy! Grab a free loyalty card next time you are in!
Collect 9 stickers and get $5 off your puchase!
How to collect the stickers:
Purchase anything $5 or up to get 1 sticker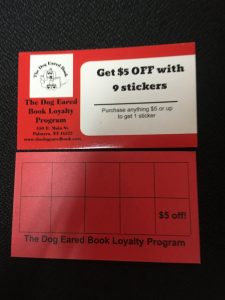 ---
Want in on our monthly e-newsletter with book reviews, coupons and more?
Fill out the form below! 
We never e-mail more than once a month and we never share your e-mail with anyone else!
---
Sorry, there are no coupons available at this time – but be sure to check back!
Save
Save
Save
Save
Save
Save
Save
Save
Save
Save
Save
Save
Save
Save
Save
Save
Save
Save
Save
Save
Save
Save
Save