The Erie Canal Sings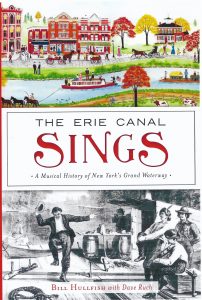 Wednesday, October 2nd at 7 pm
Join us in welcoming Bill Hullfish, author of The Erie Canal Sings! Bill will be bringing the music of the Erie Canal to life with some musical guests along with a discussion of the history of The Erie Canal and a book signing. In addition to having a great time, you will also be supporting a great cause! A portion of all proceeds will be donated to the Friends of the Macedon Public Library.
Some more details about the book: Life working along the banks of the Erie Canal is preserved in the songs of America's rich musical history. Thomas Allen's "Low Bridge, Everybody Down" has achieved iconic status in the American songbook, but its true story has never been told until now. Erie songs such as "The E-ri-e Is a-Risin'" would transform into "The C&O Is a-Risin'" as the song culture spread among a network of other canals, including the Chesapeake and Ohio and the Pennsylvania Main Line. As motors replaced mules and railroads emerged, the canal song tradition continued on Broadway stages and in folk music recordings. Author Bill Hullfish takes readers on a musical journey along New York's historic Erie Canal.
---
Wine Down Wednesdays
The first Wednesday of every month we will stay open till 8 pm! From 6 – 8 you can sip, shop, and of course, talk books! I hope you can join us!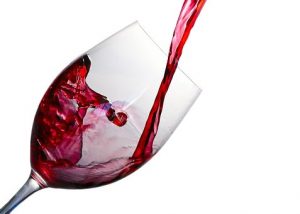 some fine print.*

*Wine only available for ages 21+. Must present valid ID. 
*This event is free and open to the public.
*This is a tasting and not an event to get drunk. Absolutely no drunken behavior will tolerated.
---

Monthly Book Club
Next Meeting: September 10th at 7 pm
Our first ever book club meeting! This will be an organizational meeting to select our first titles. Please come with the title of a book you either a) have read and loved and want to share or b) just really want to read! It's best if the book is available in paperback, but not required.
Please contact us if you plan on attending so we know how many snacks to provide! Thanks!
---
Murder Club
We hold bi-monthly murder nights to solve grisly crimes.  Each murder is different and involves puzzle solving and great team work to figure out who-done-it!  
Murder Club seats are extremely limited and currently are booked.  If you would like to go on the waiting list for openings, please contact us.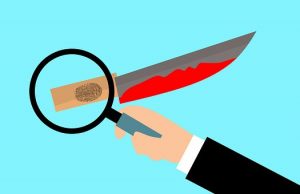 ---
Are you a member of our loyalty  program? It's really easy! Grab a free loyalty card next time you are in!
Collect 9 stickers and get 1 free $4.95 book, 2 free $1.95 books, OR $5.00 off any new book/rare book with a purchase price of $5.00 and up!!
How to collect the stickers:
Purchase 1 book $4.95 & up = 1 sticker
Purchase 2 books at $1.95    = 1 sticker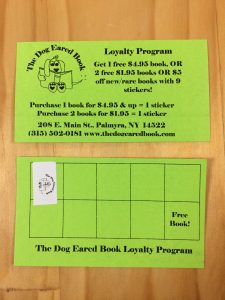 ---
Want in on our monthly e-newsletter with book reviews, coupons and more?
Fill out the form below! 
We never e-mail more than once a month and we never share your e-mail with anyone else!
As a thank you for signing up, we will e-mail you a 10% off coupon good for your entire next purchase!
---
Sorry, there are no coupons available at this time – but be sure to check back!
Save
Save
Save
Save
Save
Save
Save
Save
Save
Save
Save
Save
Save
Save
Save
Save
Save
Save
Save
Save
Save
Save
Save