Book Launch Party!
Saturday, July 20th at 7 pm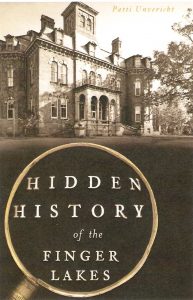 Join us to celebrate the release of Hidden History of the Finger Lakes by local author Patti Unvericht! Patti will give a talk about her new book and be available to sign copies. It's not a launch party without special treats so we will be sampling some local wine* and will have those amazing mini cupcakes from Frosted Fairy Cupcakery.
If you wish to reserve a copy in advance we will offer a 20% discount for pre-paid special orders placed by July 7th. 
Want to know more about the book? Here is the official blurb: New York's Finger Lakes region is filled with compelling characters, tragic disasters and fascinating mysteries. Famed daredevil Sam Patch, known as the "Yankee Leaper," thrilled audiences at Niagara Falls but took his last jump into the Genesee River with his pet black bear, plummeting to his death. The first ever Memorial Day was celebrated in Waterloo in 1866 and inspired a nation to adopt the holiday. Seneca Lake claims its fair share of ships, including the Onondaga, which was blown up with dynamite as part of a spectacle to commemorate the sinking of the USS Maine. Author Patti Unvericht reveals the forgotten history of the Finger Lakes region.
*All ages are welcome to this event and we will have non-alcoholic beverages available as well. You must be 21+ to sample wine
---
20th Anniversary Harry Potter Party!
Saturday, August 11th at 8 pm
Help us celebrate the 20th anniversary of the publication of the 1st Harry Potter book by having a party! Enter through the brick wall at Platform 9 3/4 and enjoy the following:
-Harry Potter Trivia
-Harry Potter Head-To-Head Game
-Costume Contest*
-Honeydukes cart loaded with Harry Potter themed treats
-Giveaways!
*Coming in costume is encouraged, but not required
**We recommend this event for ages 12 and up. It may be a little too rowdy for younger children.
***Yes! We will have the 20th anniversary edition books available to purchase! If you wish to pre-order any of the books ahead of the party to guarantee availability please call, e-mail, message, or stop by the store.
---
Are you a member of our loyalty  program? It's really easy! Grab a free loyalty card next time you are in!
Collect 9 stickers and get 1 free $4.95 book, 2 free $1.95 books, OR $5.00 off any new book/rare book with a purchase price of $5.00 and up!!
How to collect the stickers:
Purchase 1 book $4.95 & up = 1 sticker
Purchase 2 books at $1.95    = 1 sticker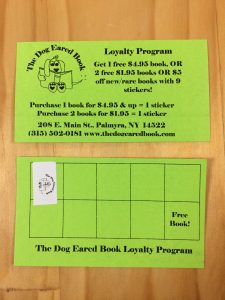 ---
Want in on our monthly e-newsletter with book reviews, coupons and more?
Fill out the form below! 
We never e-mail more than once a month and we never share your e-mail with anyone else!
As a thank you for signing up, we will e-mail you a 10% off coupon good for your entire next purchase!
---
Sorry, there are no coupons available at this time – but be sure to check back!
Save
Save
Save
Save
Save
Save
Save
Save
Save
Save
Save
Save
Save
Save
Save
Save
Save
Save
Save
Save
Save
Save
Save