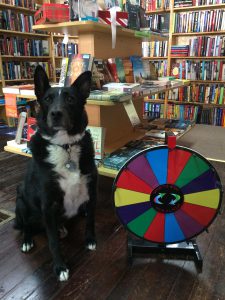 In honor of Bookstore Mascot Riley's 11th birthday, we will be hosting our 3rd annual fundraiser/supply drive for the Humane Society of Wayne County!
On March 30th and 31st, bring in any item off the Humane Society of Wayne County's Wish List below and receive 15% off your entire in-store purchase!
Want to spin our prize wheel to win free books and other great swag? Just $1* a spin!
It's not a party without food that's bad for you, so look for our delicious cookie platter!
We can only accept donations from the following list:
8) brother pc 501 fax ribbons
Don't have any of the above to donate? We will happily accept checks made out to the Humane Society of Wayne County for $5 or more in order to receive the discount.
*100% of the money collected for prize wheel spins will be donated to the Humane Society of Wayne County.
Unfortunately, Riley has a sensitive tummy, so please bring hugs and kisses but refrain from bringing any birthday foods – he won't be allowed to eat them!
---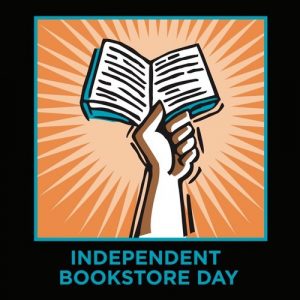 Join the party! Independent Bookstore Day is a one-day national party that takes place at indie bookstores across the country on the last Saturday in April ( 4/28/18). We will have exclusive books and literary items that you can only get on that day. Not before. Not after. Not online.  It's not a party without treats – and this time we are going to have cupcakes!! Tell all your friends, get ready to win prizes and come party at the bookstore! More details to come soon! Come out and support Wayne County's ONLY new & used independent bookstore!!
---
Are you a member of our loyalty  program? It's really easy! Grab a free loyalty card next time you are in!
Collect 9 stickers and get 1 free $4.95 book, 2 free $1.95 books, OR $5.00 off any new book/rare book with a purchase price of $5.00 and up!!
How to collect the stickers:
Purchase 1 book $4.95 & up = 1 sticker
Purchase 2 books at $1.95    = 1 sticker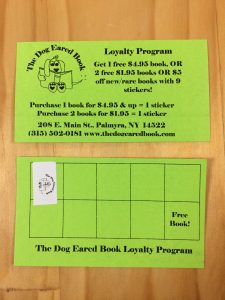 ---
Want in on our monthly e-newsletter with book reviews, coupons and more?
Fill out the form below! 
We never e-mail more than once a month and we never share your e-mail with anyone else!
As a thank you for signing up, we will e-mail you a 10% off coupon good for your entire next purchase!
---
Sorry, there are no coupons available at this time – but be sure to check back!
Save
Save
Save
Save
Save
Save
Save
Save
Save
Save
Save
Save
Save
Save
Save
Save
Save
Save
Save
Save
Save
Save
Save