Victorian Seance with Local Author Patti Unvericht
April 13th at 7pm

Join local author and ghost hunter Patti Unvericht for a Victorian Séance! Have you ever been to The Dog Eared Book when our ghost has been active? Patti is going to reach out and see if we can find out who our ghost is! This will be an after hours occasion and the store will be candlelit. Expect the séance to last about 3 hours. This is a ticketed event and seating is extremely limited.
****This event is SOLD OUT*****
---
Independent Bookstore Day!
April 27th 10 am to 6 pm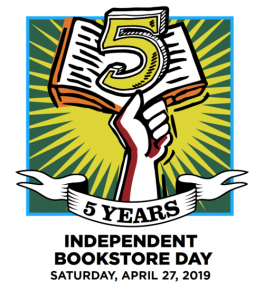 Independent Bookstore Day is a one-day national party that takes place at over 500 indie bookstores across the country on April 27th.
Why Do You Want To Join The Party?
To show you are an awesome person who believes in the value of independent retailers! Independent bookstores are not dying anachronisms – we are the heart and soul of our communities!
At The Dog Eared Book we will have:
* Exclusive merchandise available only on Indie Bookstore Day. Not before. Never online.
* Prize wheel with great discounts and giveaways all day!
* Free Independent Bookstore Tote with purchase of $25 ore more ( while supplies last).
* Compete in the World's Easiest Literary Scavenger Hunt! We promise – it's really easy!
* Cupcakes from Frosted Fairy Cupcakery
Thank you for coming out to support Palmyra's independent bookstore!!
---
The Murder Book
Signing and Talk with Lissa Marie Redmond
May 11th at 7 pm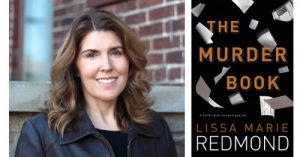 We are honored to host local author and former Buffalo PD Homicide Detective Lissa Marie Redmond! Join us for a reading of her latest novel, The Murder Book, and a conversation with the author! We will be talking about everything from writing crime novels to her experiences catching a real serial killer.
---
An Evening with Brigid Kemmerer
July 17th at 7:30pm

We are thrilled to host New York Times bestselling author Brigid Kemmerer.  Brigid is the author of Letters to the Lost, More Than We Can tell, A Curse So Dark and Lonely, and Call It What You Want. Join us for a reading, Q&A session and book signing.  More details to come soon!
---
Are you a member of our loyalty  program? It's really easy! Grab a free loyalty card next time you are in!
Collect 9 stickers and get 1 free $4.95 book, 2 free $1.95 books, OR $5.00 off any new book/rare book with a purchase price of $5.00 and up!!
How to collect the stickers:
Purchase 1 book $4.95 & up = 1 sticker
Purchase 2 books at $1.95    = 1 sticker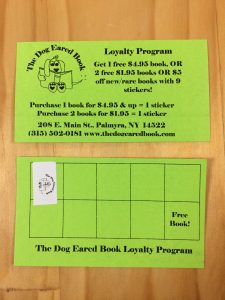 ---
Want in on our monthly e-newsletter with book reviews, coupons and more?
Fill out the form below! 
We never e-mail more than once a month and we never share your e-mail with anyone else!
As a thank you for signing up, we will e-mail you a 10% off coupon good for your entire next purchase!
---
Sorry, there are no coupons available at this time – but be sure to check back!
Save
Save
Save
Save
Save
Save
Save
Save
Save
Save
Save
Save
Save
Save
Save
Save
Save
Save
Save
Save
Save
Save
Save