Death, Lore and Local History.  A conversation with Stan Swan and Patti Unvericht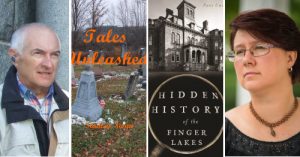 October 26th at 7 pm
Join local authors Stan Swan and Patti Unvericht for a fascinating discussion about Death, Lore, and Local History. Bring your questions and join the conversation!
~With 35 years spent in the funeral business and now a self published author (Undertakings of an Undertaker, true stories of being laid to rest and Tales Unleashed), Stan Swan has pretty much experienced it all in the death care industry.
~An authority on both local history and the supernatural, Patti Unvericht is the author of two books through The History Press, Ghosts and Hauntings of the Finger Lakes (6/5/2012) and Hidden History of the Finger Lakes (7/16/2018).
Light refreshments provided.
---
An evening with Laura Weymouth, author of The Light Between Worlds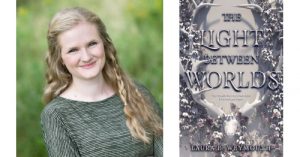 November 17th at 7 pm
The Dog Eared Book is honored to host Laura E. Weymouth author of The Light Between Worlds for a book signing and conversation! Join us to learn about her fantastic new book and chat about the publishing industry, YA books and more! Bring your questions and join the conversation!
Frosted Fairy Cupcakery
will be supplying us with delicious treats for the evening as well!
The Light Between Worlds is a A Fall 2018 Junior Library Guild Selection and the #2 Indie Next's Top 10 Kids' Books of Fall 2018.
I adored this book and can't wait to share it with everyone!
Here is our review: Have you ever wondered what it would be like to travel to a place like Narnia and then try to come home and resume your life? The Light Between Worlds asks this question with a beautifully written story taking place in a magical word called the Woodlands and also in post WWII England. Even more powerfully, this book also deals with grief, depression, and self-harm in an incredibly thoughtful way. Highly recommended.
---
Are you a member of our loyalty  program? It's really easy! Grab a free loyalty card next time you are in!
Collect 9 stickers and get 1 free $4.95 book, 2 free $1.95 books, OR $5.00 off any new book/rare book with a purchase price of $5.00 and up!!
How to collect the stickers:
Purchase 1 book $4.95 & up = 1 sticker
Purchase 2 books at $1.95    = 1 sticker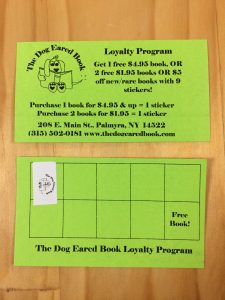 ---
Want in on our monthly e-newsletter with book reviews, coupons and more?
Fill out the form below! 
We never e-mail more than once a month and we never share your e-mail with anyone else!
As a thank you for signing up, we will e-mail you a 10% off coupon good for your entire next purchase!
---
Sorry, there are no coupons available at this time – but be sure to check back!
Save
Save
Save
Save
Save
Save
Save
Save
Save
Save
Save
Save
Save
Save
Save
Save
Save
Save
Save
Save
Save
Save
Save